Social networking services as a national cyber security subject
Keywords:
Social networking services, actors, threat, hierarchy classification, national cybersecutity.
Abstract
Social networking services are the most popular mass communication media for the actors of virtual communities. Not harmful in their origin, social networking services could be used by the criminals to disseminate harmful content, molding the individual and public opinion and bringing the threat to the national cybersecurity. The development of unified and efficient control over virtual communities to trigger their transition to the desired state is complicated by the absence of a popular classification of social networking services and the simultaneous use of several networking services by the same actor. The contributor suggests the definitions for the "social networking services" term and the "actor" term. The contribution is about analyzing the social networking services and classifying them hierarchically. Considered a wide class of assets to meet the needs of actors in communication, content, expression, socialization and so on. These types of social networking services provide integration of different types of content sharing and coordination of interaction between the actors themselves. The classification approach suggested in the contribution has the certain advantages of its consistency, capacity and accuracy. It specifies interactions between the actors of virtual communities thus enabling an efficient system of national cybersecurity. The results will be used to formalize approaches to develop control actions on the virtual community.
References
O.S. Onyshchenko, et al., Social media as a tool of interference of government and civil society, Kyiv, Ukraine, Vernadsky National Library of Ukraine, 2014.
Z. Tufekci, and C. Wilson, "Social media and the decision to participate in political protest: observations from Tahrir Square", Journal of Communication, vol. 62, iss. 2, pp. 363-379, April 2012. doi: 10.1111/j.1460-2466.2012.01629.x.
M.I. Onyshchuk, and V. Leshchuk, "The role of social media in the political process in the Middle East and North Africa", Bulletin of Kyiv National Taras Shevchenko University. Series: Special Military Science, iss. 28, pp.15-17, 2012.
R.V. Hryshchuk, and K.V. Molodetska, "The concept of synergistic control for agents interaction processes in the social Internet services", Bezpeka ìnformacìì, vol. 21, iss. 2, pp. 123-130, 2015. doi: 10.18372/2225-5036.21.8730.
K.V. Molodetska, "Method of maintenance the specified level for social networking services actors' market for the content", Radio Electronics, Computer Science, Control, iss. 4 (35), pp. 113-117, 2015. doi: 10.15588/1607-3274-2015-4-16.
T.I. Nosenko, "Social network services in educational activities", Computer in School and Family, iss. 3, pp. 30-32, 2011.
S.G. Grigorev, "Employment of social networks in the field of education", in Proc. of the international conference "Problems and prospects of professional training of maths masters", Vinnytsia, Ukraine, 2012.
T. Kargina, Internet services for civil society activists in examples and pictures, Moscow, Russia, ASI, 2011.
K.V. Dubniak, "Social Internet as a means of sharing information", The state and the regions. Series: Social communities, iss. 3 (19), pp. 122-126, 2014.
O.M. Kolisnyk, "Typology of Internet media as zhurnalistykoznavcha problem", Bulletin of the Kharkiv State Academy of Culture, iss. 30, pp. 202-208, 2010.
L. Mudrak, "Convergent media as a scientific category and an information space", Bulletin of the National Academy of Public Administration under the President of Ukraine, iss. 2, pp. 256-267, 2013.
J. Obar, and S. Wildman, "Social media definition and the governance challenge: An introduction to the special issue", Telecommunications policy, vol. 39, iss. 9, pp. 745-750, 2015. doi: 10.1016/j.telpol.2015.07.014.
A. Kaplan, and M. Haenlein, "Users of the world, unite! The challenges and opportunities of social media", Business Horizons, vol. 53, iss. 1, pp. 59-68, January-February 2010. doi: 10.1016/j.bushor.2009.09.003.
D.M. Boyd, and N.B. Ellison, "Social Network Sites: Definition, History, and Scholarship", Journal of computer-mediated communication, vol. 13, iss. 1, pp. 210–230, December 2007. doi: 10.1111/j.1083-6101.2007.00393.x.
Yu. Danyk, R. Hryshchuk, and O. Samchyshyn, "Mobile social Internet services as the modern mass communication", Bezpeka ìnformacìì, vol. 21, iss 1, pp. 16-20, 2015. doi: 10.18372/2225-5036.21.8300.
O. Yakymchuk, "Online Social Network Perspective", Religion and society, iss. 2 (6), pp. 199-205, 2011.
L. Longo, "Enhancing Social Search: A Computational Collective Intelligence Model of Behavioural Traits, Trust and Time", in Transactions on Computational Collective Intelligence II : Lecture Notes in Computer Science, P. Dondio, and S. Barret, Eds. Berlin, Germany: Springer-Verlag Berlin, 2010, pp. 46-69.
M. Noll, and C. Meinel, "Web Search Personalization Via Social Bookmarking and Tagging", in Proc. of the 6th international The semantic web and 2nd Asian conference on Asian semantic web conference (ISWC'07/ASWC'07), Busan, Korea, 2007, pp. 367-380.
T. Aichner, and F. Jacob, "Measuring the Degree of Corporate Social Media Use", International Journal of Market Research, vol. 57, iss. 2, pp. 257-275, 2015. doi: 10.2501/IJMR-2015-018.
O.H. Korchenko, S.V. Kazmirchuk, Ye.V. Patsira, S.O. Hnatiuk, and V.M. Kinzeriavyi, "The feature principle of forming classifications of cyber-attack", Journal of East Ukrainian National University named after Vladimir Dal, vol. 1, iss. 4, pp. 184-193, 2010.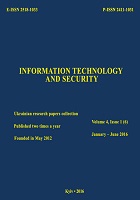 Downloads
How to Cite
Molodetska, K. (2016). Social networking services as a national cyber security subject. Information Technology and Security, 4(1), 13–20. https://doi.org/10.20535/2411-1031.2016.4.1.95915
Section
INFORMATION SECURITY
License
Copyright (c) 2020 Collection "Information technology and security"
This work is licensed under a Creative Commons Attribution 4.0 International License.
The authors that are published in this collection, agree to the following terms:
The authors reserve the right to authorship of their work and pass the collection right of first publication this work is licensed under the Creative Commons Attribution License, which allows others to freely distribute the published work with the obligatory reference to the authors of the original work and the first publication of the work in this collection.
 
The authors have the right to conclude an agreement on exclusive distribution of the work in the form in which it was published this anthology (for example, to place the work in a digital repository institution or to publish in the structure of the monograph), provided that references to the first publication of the work in this collection.
 
Policy of the journal allows and encourages the placement of authors on the Internet (for example, in storage facilities or on personal web sites) the manuscript of the work, prior to the submission of the manuscript to the editor, and during its editorial processing, as it contributes to productive scientific discussion and positive effect on the efficiency and dynamics of citations of published work (see The Effect of Open Access).